Introduction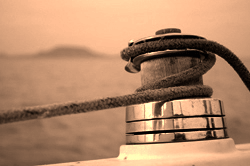 Welcome
We are waiting for you, your family or friends to come to our family owned guesthouse, can be found in the South-West part of Lake Balaton.
Depending on the season and weather there is an opportunity for sailing, or ice sailing, ice skating. Apart from these activities you can fish from our sailing boat even from afternoon till late night if requested.
The guesthouse located close to the lakeside. It is a perfect base for cyclists even for long distances, since around the lake there is a recently renovated, approximately 200 km long bicycle route.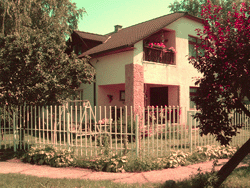 The Guesthouse
Where: "Kis Horgony" (Little Anchor) Guesthouse located in Balatonmáriafürdő, in the corner of Keszeg street and Vasút tér. It is close to the centre, railway station, food store, grocery, the post office are nearby, (max. 200 m). Sailing boat port and beaches are 10 minutes walk only: Check map
Rooms: the house involves 4+1 rooms altogether. It can provide comfortable accomodation for 15 persons (2+3+3+2+5). Upstairs there is a living room with fireplace, dining room, TV, kitchen. The kitchen is equipped with microwave oven, oven and refrigerator. 2 rooms with shower, 2 rooms with common bathroom. Upstairs there is a loggia, downstairs a terrace.
Bed linen provided.
Grilling: grill set with charcoal is always available for our guest in the garden. It is a nice to grill your own previously caugth fish.
Parking: shady places are in the garden till 4 cars. Garage can also be requested, call for availability.
Animals: in the garden only, call for details